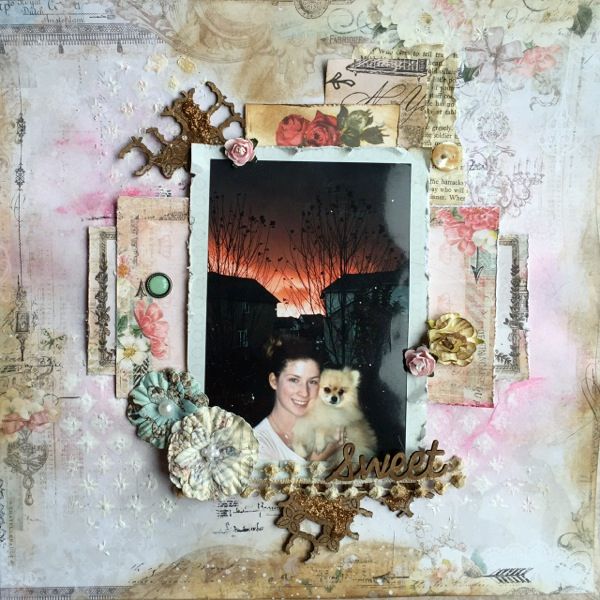 I wanted to share another layout I made with Blue Fern Studios Love Store line.  The line lends itself so well to vintage grungy layouts with lots of mixed media components. I used lots of layers from the line behind my photo to give it weight and depth. I started by using the mini north star stencil.  When that layer was dry, I added some distress inks ink various shades of browns and pinks.  I found a script stamp from 7 gypsies and stamped it around the backround paper as well.  If you don't want such a distinct stamping, stamp it off on a scrap first and the ink won't be as sharp and crisp.
I added Blue Fern Studios chipboard to the layout as well. I used floral bits chipboard -unfortunately it's sold out, but Lori could easily get that back ink for you! I inked it with the same colours as I had used on the backround paper.  I rubbed the piece with Maya gold cacao in various places and added some distress glitter as well. I treated the Sweet chipboard the same but I didn't add the glitter.
The flowers were added next. The pearl flowers are Prima. The others were either inked or had gesso added to them to grunge them up a little.  I added a vintage button, a teal coloured brad and some inked Maya road lace to complete the embellishing.