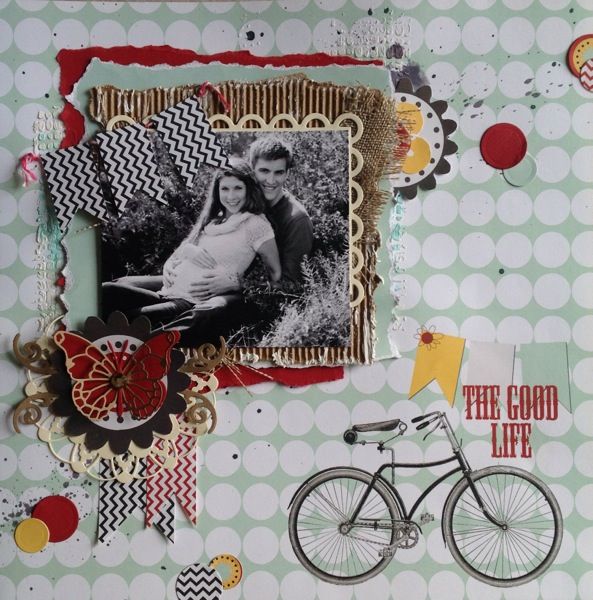 I don't usually scrap with bright colours… I tend to stick to more muted tones and browns and pinks and things more grungy.  Sometimes it's good to challenge yourself to work outside the box. I found this paper and thought it would work perfectly with this photo of my daughter and son in law. Since this patterned paper wasn't really my usual style, I had to add touches of my usual style.
See the stencil and matte medium? See the black soot distress paint splattered around the layout? I watered it down quite a bit and I used the tim Holtz splatter brush to flick the paint around the layout. It is a very useful brush and I highly recommend it. I cut out banners, circles, and design elements out of the patterned paper to use as embellishments. (you don't always need the expensive embellishments, think about how you can use your paper to make some elements)
Another interesting element of this layout is the texture. I used corrugated cardboard and burlap as layers under the photo.
I used various Memory Box dies to bring the butterfly cluster together. I also wanted to let you know that I love this twine. It is under the banner and adds some more texture.
I challenge you to think of what makes your life good. Take pictures and get it scrapped!!