Valentine's day is today and this special day has me in the mood for love.  I thought I would scrap about what love looks like around my house.
This is a typical Saturday night around here… my husband watching hockey and Peyton, our dog, not too far away from him.  I wanted to make a masculine layout which isn't always the easiest for me.  I am most comfortable creating girlie frilly layouts. I admit, sometimes the thought of creating a masculine layout can take my breath away.  (and not in a good way) Are you with me in this reaction?  I just had to jump in and see where it took me.
I found distressing the edges of the papers and using lots of layers is a good place to start. I have tried many distressing tools but I find the Prima tool the best. It has multi surfaces that come in handy when I am distressing. I also love using distress ink to add the worn look to new papers and embellishments. I used various shades of browns and blues on this layout.
I tucked in distressed Prima flowers under the photo and in the top corner. I think the grunged down version of these flowers fits in very nicely with the overall feel of the layout. It was easy to do… just apply those same brown and blue distress ink to them in various places.   I tucked in Memory Box die cuts in as well.  I tucked in some twine to the clusters as well. I have various stamps around the layout. I take acrylic stamps and roll them on to the layout in various places to get that effect.  I inked up a wooden title and adhered it with my hot glue gun.  I added a gears chipboard piece to finish off the photo section. I painted it with watered down white paint. I made sure to leave areas the raw chipboard.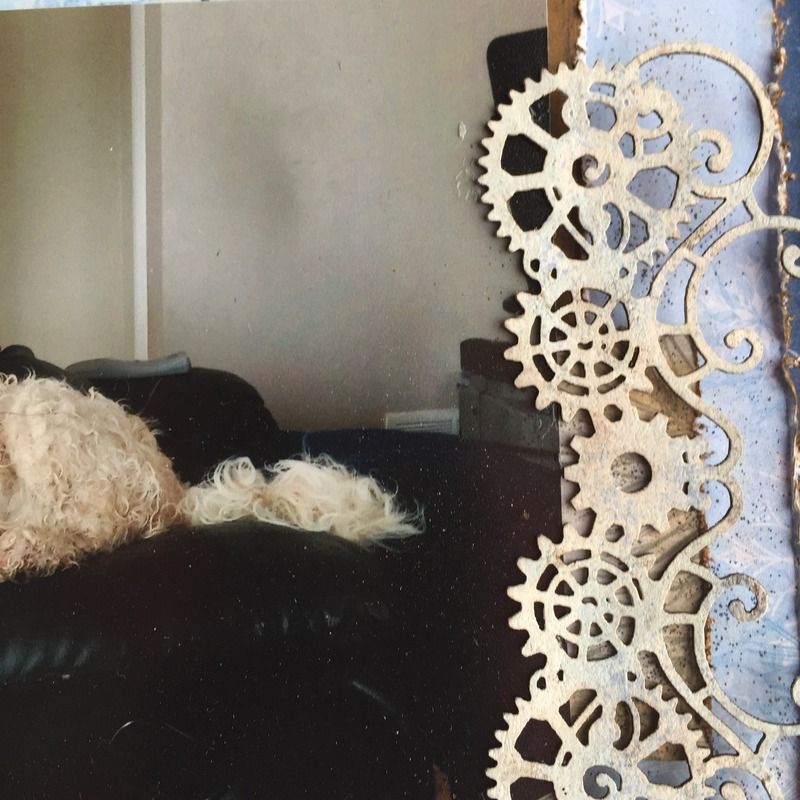 I would love to see your masculine layouts. Please post them in the gallery at Love is in the Details.
Happy Valentine's Day!