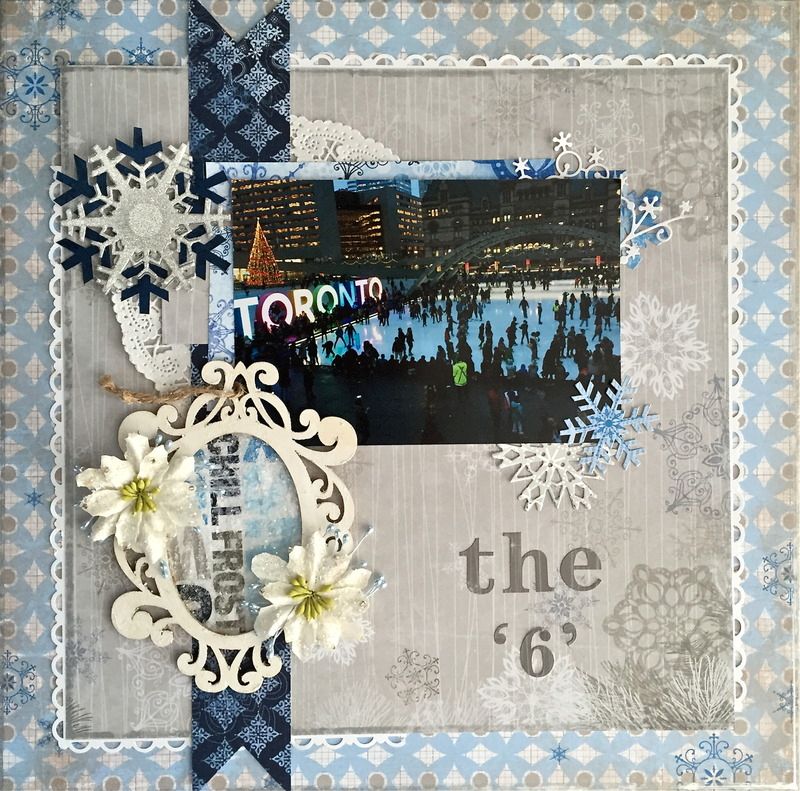 I find that when I scrap, I tend to get on a roll and scrap a whole bunch at once. Does that happen to you too?  I have the bulk of my stash downstairs, so it can be quite a feat to get everything out and upstairs where I scrap. (I admit it, I scrap on my kitchen counter) I had out the BoBunny paper pack and once I started creating, I just couldn't stop myself. I took this picture in downtown Toronto on the 23rd of December. The Toronto sign is very popular since the Pan Am games last summer. This is the public skating rink set up right in the centre of Toronto. The photo inspired me to create this layout. I came up with the title from the singer Drake who refers to Toronto as "the 6".  I showed the layout to my son and he asked me why I was referring to it as "the 6" as it's so gangsta.   I guess that's how I roll!!
I used Bo Bunny Powder Mountain paper. A sticker embellishment sheet comes in the paper pack and the blue snowflakes comes from that sheet. I discussed in and earlier blog post that I use different and interesting things on my layouts.  I die cut the silver snowflake from a used Christmas cracker using a Tim Holtz die. I think it adds some sparkle without being overwhelming. I altered the wooden frame with some Dina Wakley heavy body paint. This paint works very well for coverage on the wooden shape.  I cut out an oval of patterned paper and mounted it under the wooden shape and added some clear glitter glass using glossy accents. I used some blue stamens under the flowers just to give a little pop of light blue.  I used a silver Krylon pen on the edges of both layers of back round paper. There are punched paper under the top layer of patterned paper as well.
I hope you have a wonderful day and find some time to play with ink and paper.